One of the most frustrating things I see when I visit a personal injury law firm's site is pop up chat windows. These things drive me nuts, and I am a very patient web user. If they are driving me nuts, they are absolutely driving potential clients nuts, too.
Google has toyed with the idea of penalizing people who use them for years and it looks like my wishes (and Google's) are finally going to be coming true very soon.
Google has announced decreased rankings coming January 10 2017
Google announced that "Pages that show intrusive interstitials provide a poorer experience to users than other pages where content is immediately accessible." They are correct. And Google is all about connecting people with what they are looking for. Happy Google users mean they will keep Googling, and when people keep Googling Google keeps raking in billions of dollars.
Google provided these 3 examples of interstitials which they will be pushing down in the rankings in an effort to stop people from making it to your website:
Showing a popup that covers the main content, either immediately after the user navigates to a page from the search results, or while they are looking through the page.
Displaying a standalone interstitial that the user has to dismiss before accessing the main content.
Using a layout where the above-the-fold portion of the page appears similar to a standalone interstitial, but the original content has been inlined underneath the fold.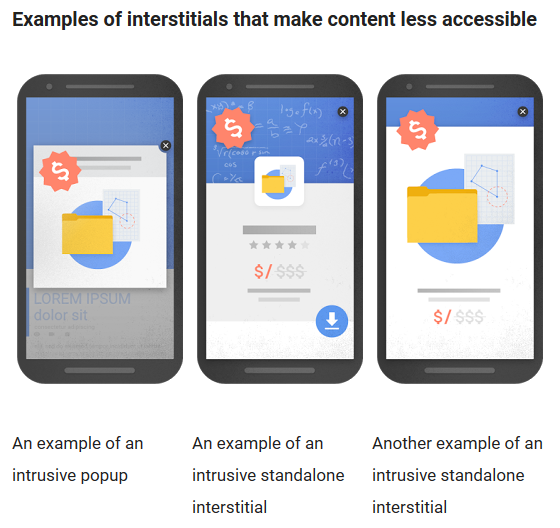 Are any pop ups good?
I have seen a few "live chat" scripts that will sit at the bottom of the screen. These are fine.
The point here is that your content needs to remain immediately accessible.
Chances are, you need more injury content and more traffic from Google search anyways. This should be of drastically higher importance to you than a pop up.