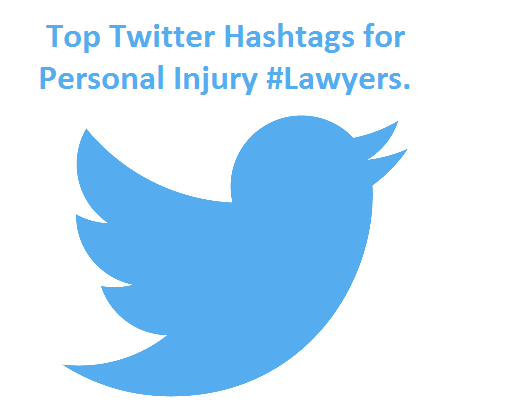 Some Personal Injury Attorneys tweet.
Sending tweets into the Twittersphere can be useless without a following. On some occasions, however, lawyers can take advantage of hashtags.
You can tweet with a trending hashtag, browse hashtags, or search for people discussing a particular topic.
While accident victims will not magically begin calling you overnight and tweeting poses almost zero SEO value for you and your firm's website, networking opportunities do exist.
Personal Injury Attorney Hashtags
There are plenty of legal hashtags used on Twitter from #bankruptcy to #divorce but of course those are useless for PIs. Hashtags which can help lawyers practicing injury law include:
#personalinjury
#lawsuit
#attorney
#accident
#litigation
#caraccident
Finding topics to write articles about
Content on your website is hands down the best way to attract new cases online.
Using Twitter to find topics to write about is likely the best use of Twitter for PIs, IMO. Hashtags are used optionally: simply go to the search bar and search, hashtag or no hashtag.
Let's say you're a car accident lawyer in Los Angeles. Simply search for Los Angeles Crash. There you will see tweets from Caltrans, LAFD, journalists, witnesses, victims, people stuck in traffic and reporters.
Networking
Networking, in my opinion, is the second best use of any social media for personal injury lawyers.
On Twitter you can find the other content creators in your niche. You may discover an Attorney who is really nailing content marketing in Dallas TX. Now you can follow their blog and apply the same strategies over in Chicago, IL.
Or, you may find guest article opportunities. Or, simply other attorneys who you may and up referring people to, or getting referrals from.
Conclusion
Twitter, like any other social media, can be useful. A word of caution: your online presence starts with your website and that is a piece of property which you own.