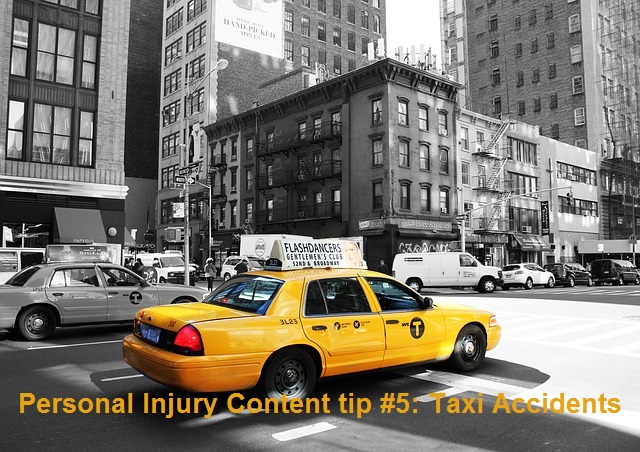 Don't expect this one to make the phone ring off the hook overnight or anything but taxi and taxicabs are often overlooked keywords in any personal injury lawyer's content portfolio.
A good taxi accident page will help with all sorts of long tail search. Sure, there aren't huge differences between a car accident case and a taxi accident case but people could search the Internet for more information if they have been injured as a passenger in a taxi, hit by a taxi or involved in an accident involving a taxicab.
In California, for example, I would personally point out that even though taxi drivers often blow through yellow lights and speed, CACI 902 points out that they should actually be driving very carefully. The civil jury instruction reads "Common carriers must carry passengers safely. Common carriers must use the highest care and the vigilance of a very cautious person. They must do all that human care, vigilance, and foresight reasonably can do under the circumstances to avoid harm to passengers."
Time is money to these drivers who are often charging by the mile. In cities such as Los Angeles and San Fancisco taxi drivers have taken a HUGE hit in the last few years thanks to Lyft and Uber.

As a final note, in some cities, such as cities in California, there may be special requirements which regulate taxicab operation.
In other words, any driver can be negligent but a taxicab driver should especially be aware of their duty to care.
A $26 million verdict against Yellow Cab was one of the highest verdicts of 2015.