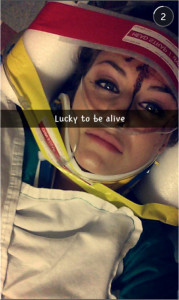 A recent article on CNN, Personal Injury Lawyers target Snapchat as reason for potential car crash suits, has brought significant attention to personal injury lawyers who may have previously ignored Snapchat.
Which Accident is Snapchat Being Sued For?
The car accident Snapchat is being sued for is the one in which 18yr old Christal McGee hit a grey Mitsubishi driven by Maynard Wentworth. The complaint says "McGee was going approximately 107MPH".
However, the damage to the vehicles does not appear to me at all like a crash that happened at speeds exceeding 100MPH. Additionally, all of the occupants in Christal's vehicle got off with minor injuries. Christal's father, a tow truck driver, also responded to the case in this article, and doesn't think that speed, negligence, OR Snapchat played a role in the accident.
According to the lawsuit, the accident in question occurred around 11:15PM, September 10, 2015.